Streamlining Import and Export Operations
A Comprehensive Transformation Journey for an Industrial Supplier Company
An industrial supplier company that specializes in providing high-quality products to customers in various industries was facing challenges in traditional business operations. As the volume of activities, orders and users on the platform increased, the company identified several organizational barriers and user experience limitations. To overcome these challenges, the company embarked on a comprehensive transformation journey to optimize its operations and improve the overall user experience. The company's complex processes required flexibility in workflow, but the solutions of large supply chain companies were too expensive, and the solutions of small companies did not provide the necessary functions to effectively manage the various aspects of the supply chain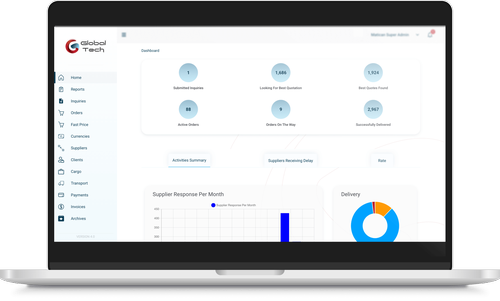 Through extensive field research, we identified processes that aligned with employee habits and needs while addressing company concerns. The company successfully transitioned its traditional processes into a seamless digital solution, minimizing any potential disruptions.
Client Challenges
This Industrial Supply chain Company encountered several challenges in its traditional business operations, including:
Supplying internationally
Expanding their business globally and managing supply chains across different countries posed complexities in terms of supplier management, regulatory compliance, and shipping logistics. Managing the transportation and logistics of cargo shipments involved coordinating with multiple freight forwarding companies, ensuring proper packaging, accurate documentation, customs clearance, and tracking.
Lack of Order Cancellation List and Transparency
The company lacked a centralized list and clear reasons for order cancellations by customers or suppliers, leading to ambiguity and potential disputes.
Order tracking and reporting to clients
Providing real-time updates to clients about the status and progress of their orders, including order processing, shipment tracking, and estimated delivery dates.
Absence of Bulk Operations
The inability to select and perform operations for a group of users simultaneously hindered efficiency and productivity.
Limited Brand-Based Pricing Options
The system lacked the functionality to add Fast Price based on specific brands, limiting pricing flexibility.
Inadequate Analytical Charts
The absence of clear and practical charts for system analysis restricted the company's ability to gain actionable insights and make informed decisions.
Different delivery methods based on client locations
Catering to diverse customer locations required implementing different delivery methods, such as air freight, sea freight, or ground transportation, depending on the destination and client requirements.
Tracking supplier and cargo company delays
Monitoring and mitigating delays caused by suppliers or cargo companies, ensuring proactive communication with clients, and implementing contingency plans to minimize disruptions.
Lack of Admin Activity History
The absence of a comprehensive log of admin activities for registered orders hindered transparency and accountability.
Inadequate Analysis for Missing or Partially Supplied Orders
The company faced difficulties in analyzing and addressing missing orders or orders that required multiple shipments, resulting in operational inefficiencies.
Lack of Clear Creditors and Debtors List
The high volume of transactions on the platform resulted in the absence of a clear and concise list of creditors and debtors, impeding financial management.
Supplier and client wallets and financial matters
Effectively managing supplier and client financial transactions, including invoices, payments, and account reconciliations, while ensuring transparency and security. Also, have a clear vision of all debts and credits so that you can predict and avoid possible profit and loss.
Absence of Mobile Version
The lack of a mobile-friendly platform limited the ability to track and respond to orders when away from desktop devices.
Absence of Internal Alarm and Notification System
The platform lacked an internal alert system, leading to delays in responding to critical events and important updates.
The Solution
The solution developed for Industrial Supply Chain Inc. encompassed a range of features aimed at enhancing organizational efficiency, mitigating the risk of errors and financial losses, and elevating customer satisfaction. The solution was designed as a Progressive Web Application (PWA), ensuring optimal performance and compatibility across various devices and platforms.
The following are key features of the solution:
Classification of information
This feature provides sales staff with access to customer and supplier information. It also allows for separate viewing of each client or submitter's request list and provides the ability to track the status of each request for efficient management.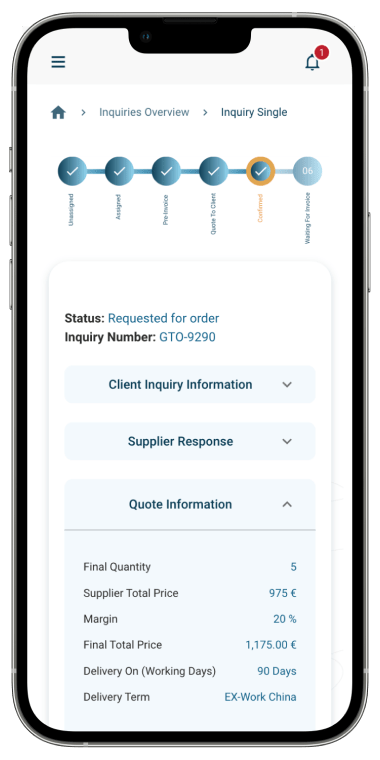 Supply chain optimization
To simplify the supply chain, Industrial Solutions Inc. identified reliable international suppliers and categorized them based on order volume, system points, supplied brands, etc. This approach facilitated negotiations for favorable conditions, implementation of supplier performance criteria, and the creation of strong communication channels.
Delivery method optimization
By analyzing client locations and requirements, Industrial Solutions Inc. developed a flexible delivery strategy that utilized a combination of air freight, sea freight, and ground transportation. This optimized cost, time, and efficiency.
Cargo management system
The implementation of a robust cargo management system enabled efficient handling of shipments, ensuring proper documentation, tracking, and compliance with customs regulations.
Intuitive dashboard for company managers
The live workflow processes enabled company managers to monitor the progress of each order delivery through an intuitive dashboard.
Financial management platform
Adoption of an integrated financial management platform facilitated seamless management of supplier and client wallets. It automated processes such as invoicing, payments, and financial reporting.
The Matican Group LLC solution for industrial parts supply companies streamlines operations and enhances user experience. It improves efficiency, reduces errors and losses, lowers costs, and increases customer satisfaction. This scalable solution enables companies to adapt to market changes and handle orders effectively.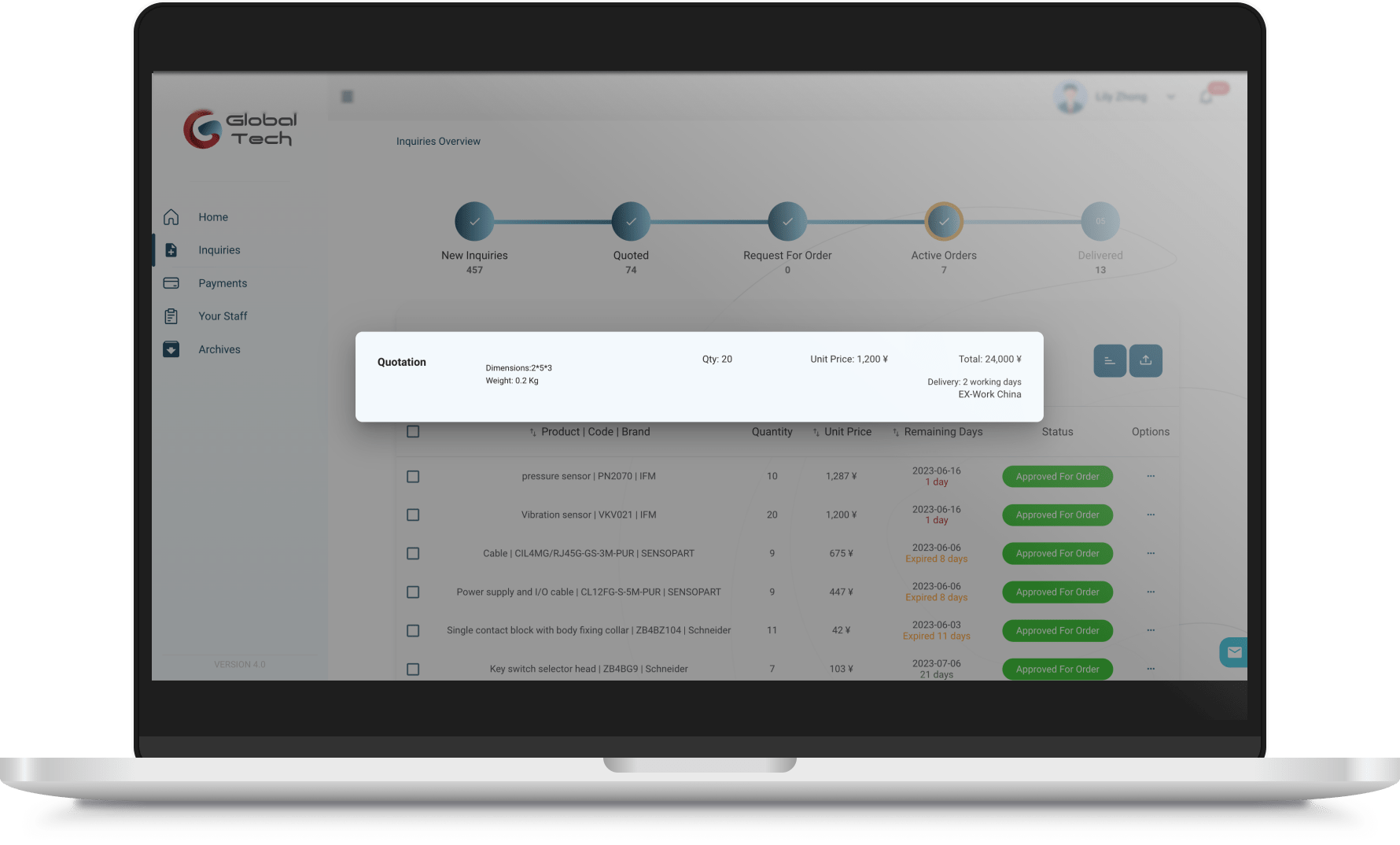 Implementing these solutions has led to improved efficiency and customer satisfaction for Industrial Solutions Inc. This sets the stage for future growth and expansion. Leveraging technology, process improvements, and strong relationships with suppliers and clients will further enhance operational efficiency and customer satisfaction.
The solution enables customers to submit orders, track fulfillment progress, and receive accurate invoices with detailed information. It ensures transparency in order management and provides managers with a visual dashboard for tracking order delivery progress. It also facilitates identifying reasons for order cancellations or rejections.
Order tracking and reporting system
The deployment of an advanced order tracking system allowed Industrial Solutions Inc. to provide real-time updates to clients. This included order status, shipment tracking, and delivery notifications. Advanced analytics tools were incorporated into the system to facilitate a comprehensive analysis of missing orders and those requiring multiple shipments, enabling prompt resolution.
Mobile-Friendly Platform
A mobile version of the platform was developed, enabling users to track and respond to orders on the go, enhancing flexibility and responsiveness.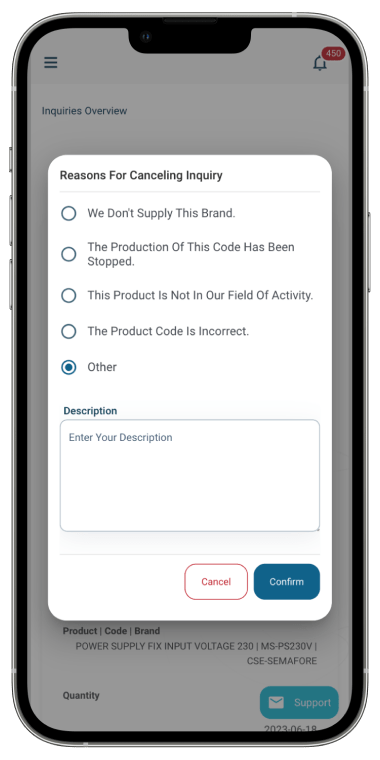 Order tracking for customers
The solution also provided customers with the ability to track their orders in real-time through an online portal. This improved transparency, accountability, and increased customer satisfaction by providing them with up-to-date information on the status of their orders.
Push notification for inquiry and order statuses
Company managers, clients, and suppliers can receive updates about inquiries and orders and view the latest changes through the push notification system.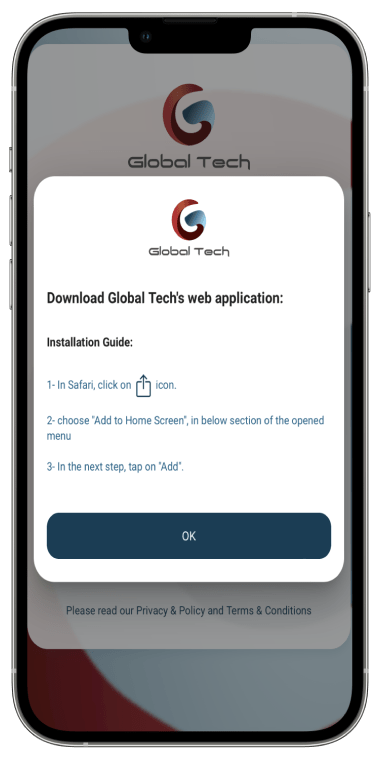 Intuitive dashboard for clients and suppliers
Clients and suppliers have access to a visual representation of their order numbers at each step, as well as their financial debt or credit in different currency types.
Supply chain monitoring
By utilizing supply chain monitoring tools, Industrial Solutions Inc. tracked supplier performance and monitored cargo company delays. This enabled proactive communication with clients and the implementation of contingency plans to minimize disruptions.
Implementation of Admin Activity Log
A comprehensive log of admin activities for registered orders was introduced, providing transparency and enabling efficient tracking of actions.
Efficient inquiry and order management
The implementation of streamlined processes and effective communication channels helped Industrial Solutions Inc. address canceled and rejected inquiries and orders promptly. This ensured efficient resolution and maintained customer satisfaction. A centralized order cancellation list was implemented, accompanied by clear reasons for cancellations, ensuring transparency and reducing potential disputes.
Bulk Operations Functionality
The system was enhanced to support bulk operations, allowing users to perform actions on a group of users simultaneously, streamlining processes and improving efficiency.
Brand-Based Pricing Options
The system was updated to incorporate Fast Price functionality based on specific brands, providing greater pricing flexibility and customization.